Anybody reading the history of Father's Footsteps elsewhere on this site can be forgiven for thinking that genealogy is my main or only hobby. Not so; I researched my ancestry forty years or more ago, until the available research facilities at the time were exhausted, since when I have hardly bothered.
My main interest all these years has been the pastime of cycling. I say pastime rather than sport because I never raced. I was too poor, too lazy and to impecunious to race and I was never any good at getting up early to make the starts; even as a spectator!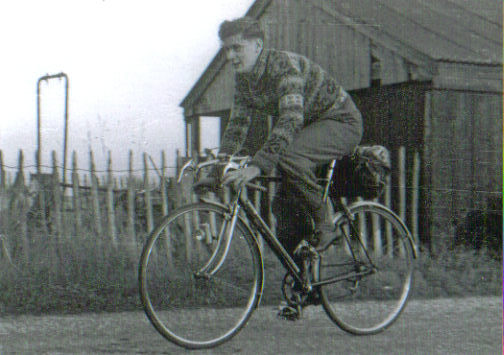 When, one morning in the early 1950's, with my shiny new Youth Hostel's card, and my new five-bob-a-week Claude Butler Jubilee Bicycle, I set out for Canterbury, not knowing whether I could ride that far. I little realised that cycling, in one form or another, would keep me out of mischief for over half a century.
I joined my local YHA group and enjoyed the best part of a decade with my club mates. The weekly social evenings in the clubroom; the Sunday runs; the Youth Hostel week-ends and annual tours were all enjoyed in the company of these friends until jobs and marriages scattered us to the winds. (We are, for the most part, still in touch after more than fifty years).
There followed a period of some fifteen years or so of pottering in the local lanes for an hour or two on Sunday mornings and occasionally riding antique cycles in rallies around the country, until ill health, particularly so in my wife's case, forced our retirement from the activity. It was during that period that I amassed some forty historic bicycles, lots of Victoria cycle related memorabilia, and a library of the fine literature bequeathed to us by those extremely erudite 19th century cyclists.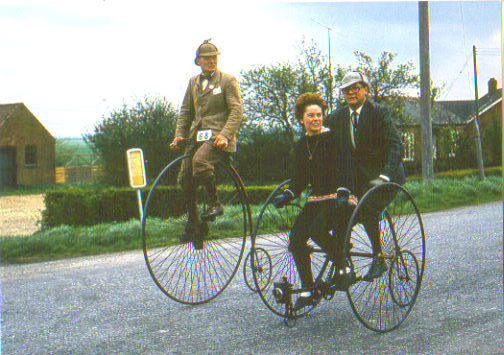 Today I have a certain notoriety as an essayist on the subject; some even calling me a historian, which is not strictly true. I confess to producing numerous essays on the subject over a thirty five year period. I also have an interest in vintage advertising, about which I also write from time to time. I have contributed to "Essex Countryside" (photos only), "Essex Journal", "The Boneshaker", "The Wheelman (USA)", "Doll and Toy Collector", "Collector's Mart" and its successor "The British Bottle Review", "The Ephemerist" etc., etc.. In 2002 I published locally a 25 page booklet "Goatsmoor Lane and some Tricyclists" which sold out instantly. More such booklets are planned.
Now, why do I bore you with all this personal data?
Well, I am always looking to expand my extensive archive of photographs of early cyclists and cycles and I am hoping that some will read this and allow me to copy any such photos in their family albums. Pre-pneumatic era photographs are particularly sought.
Thank you. Back